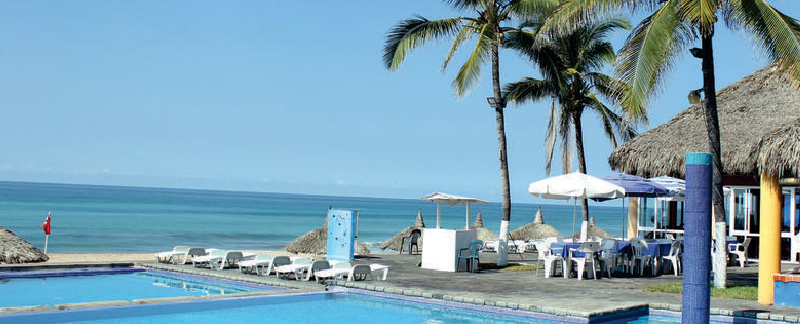 Our suites and villas boast personalized hotel services addressing the needs of those seeking the comfort of a home with the advantages of a hotel.
EQUIPMENT AND AMENITIES
All units are air-conditioned, have cable TV and wireless internet; a fully-equipped kitchen, a balcony or deck, a parking space across from every unit, and common rest areas as well.

Cerritos also boasts a Sea front Beach Club, a restaurant, gardens, swimming pools and hay-roof gazebos by the beachfront pool and on the beach.

In the common areas you'll find a Jacuzzi, a playground and a patio with barbecues in a very nice family-like atmosphere.
LOCATION
Cerritos is very conveniently located at only 5 minutes from the Marina Mazatlan, 10 minutes from the Zona Dorada, the Golden Zone, 30 feet away from Mazagua, the only Water Theme Park in northern Mexico, 30 minutes from Mazatlan's international airport, 20 minutes from downtown and only 15 minutes from a world-class hospital.
SCHEDULES
Check-in: 15:00 hours/Check-out: 12:00 hours
HOTEL SERVICES
Safety box at Front Desk

24-hour surveillance

Wireless internet

Housekeeping